WoodworkingWeb Theme: Crosscut Sled
The crosscut sled: as Ianwater says, "A good cross cut sled is a life saver."
He also says,
It has helped me improve my cuts
I know exactly where the blade will be cutting
The work piece is supported on both side
I can use hold down on the piece keeping my hands away
What are your reasons for using (or wanting) a crosscut sled?
Share your thoughts, tips, stories and questions in the comments section below.
Share your crosscut sled and how it was made. (Don't forget to tag it as crosscut sled!)
Ianwater's Crosscut Sled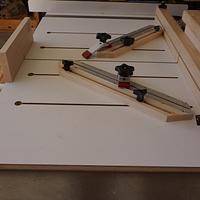 [ You can find all creations tagged as "crosscut sled" here ]

-——————————————————————————————————————————————————————————————-
REMEMBER TO TAG YOUR CREATIONS … so that they are shown in the THEME galleries!


-——————————————————————————————————————————————————————————————-
-- Toxins Out, Nature In - body/mind/spirit