My woodworking teacher, Jim Vice, invited few students to take his buffet class. It was an instruction only class were everyone was expected to do all the work at home.
The original design was 9 drawers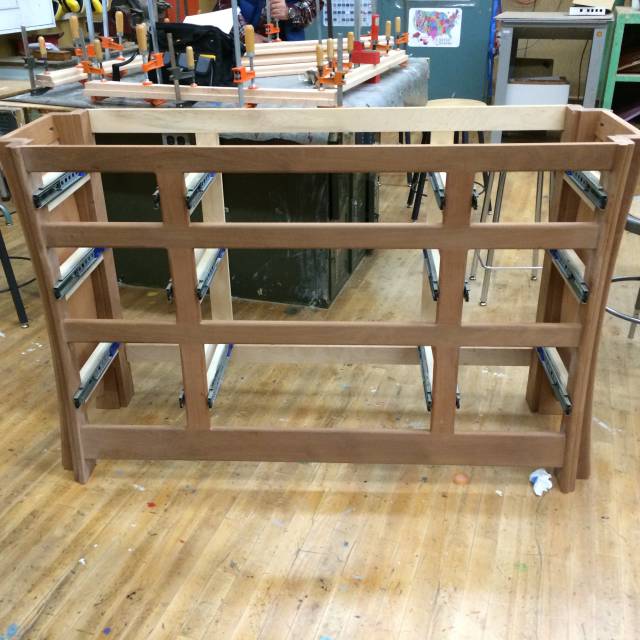 I liked his design but I gutted it and changed it quite a bit. I did not want to use just solid wood. I wanted to practice my veneering skill. Well Jim never taught veneering but some of you will remember my "baby steps" under the tutelage of Paul Miler, AKA shipwright.
I would like to say a bunch of things about Paul. I am sure we all have seen his blogs and work. He has been very generous in sharing his knowledge. In my case he went way beyond that. From what I have been reading from people who have interacted with him, he has done the same with them as well.
My friend Bently has been whispering in my ears every time he sensed I need help throughout the project:)
I wanted to use walnut for this project. I did not find some decent walnut at the local lumber yards. I went for ribbon sapele for the frame instead .
Using Walnut veneer opened up a tremendous amount of figured walnut none of which I could find as solid. It is worth noting the price of veneer is much cheaper than solid.
All veneers for this project were purchased from Joe Woodworker.
The veneer vacuum system was built following his plan and all parts were purchased from him as well.
If you noticed the legs are curved and so all the front had to be "aligned" with that curve.
That means the front rails are at an angle and that goes for the tongue and groove I used on those. It also means the face of the drawers, the floor and the doors are at an angle.
All the veneering was hammered with hot hide glue except the top. I am sure I could have hammered the top too but I chickened out. I spent a lot of money on the veneer and did not want to risk ruining it.
The top was done with Better Bond glue and a vacuum press. That was my first time using a vacuum bag / press. I had a little glue seepage that gave me some pain during finishing but overall it went well.
At first the stiles and rails for the doors were sapele. My wife wanted darker. I went out and found Peruvian walnut. That was not dark enough.
Then I used black java stain on the drawers rails and stile of doors and drawer trims. I had to glue the doors and sand them flush before I stain. The solution of vinegar and steel give a very nice black. Unfortunately, I noticed some seepage under the blue tape on a trial piece. Java did not exhibit that.
The plan was to use a European 170 degree cup hinge so it can clear the leg. That was not enough. I ordered a bunch of different hinges I thought will work but my wife wanted something totally invisible. I decided to go for pivot hinges.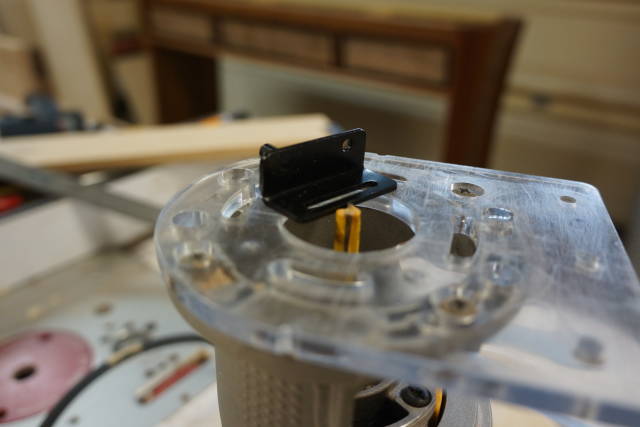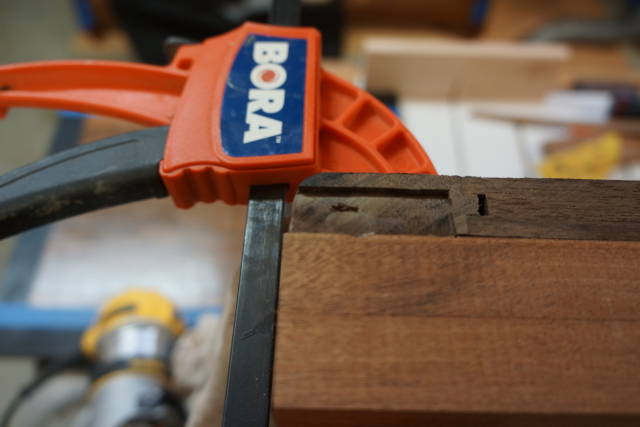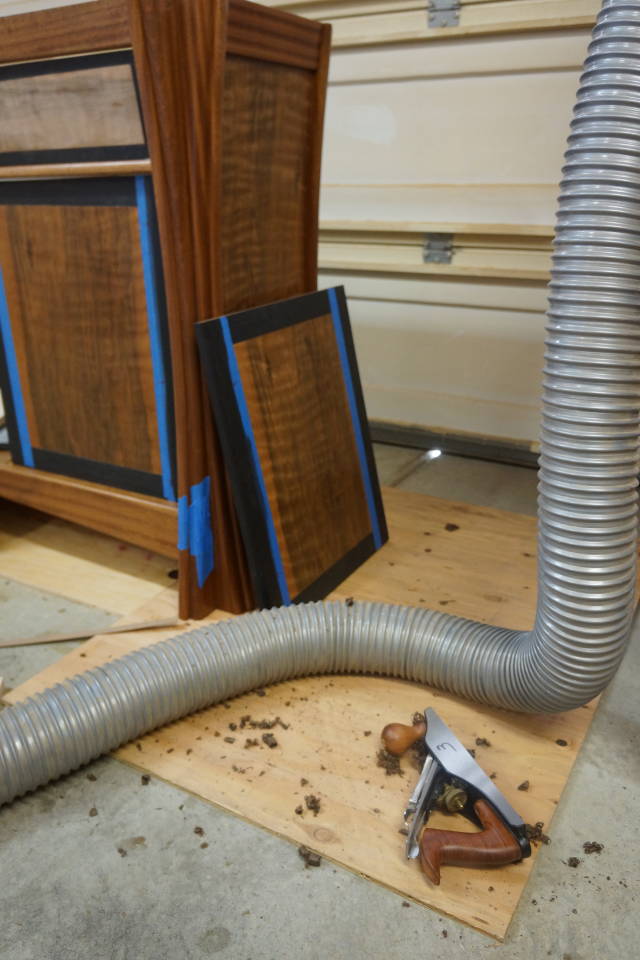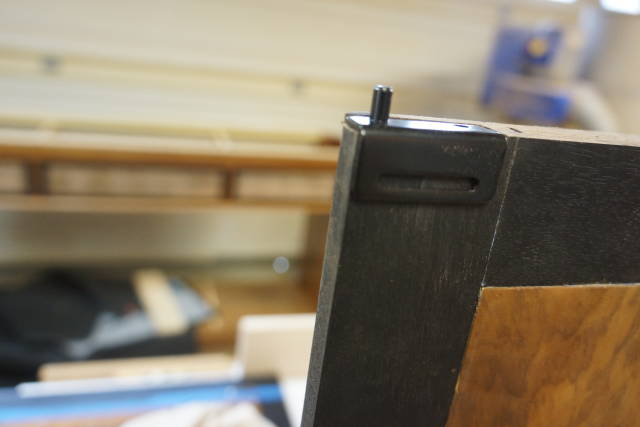 The finish is General Finishes Arm-R-Seal Satin wipe on. 3 to 4 coats depending on the part. I used 2 quarts on this project. Sanded with 600 and 800 grit between coats.
The last coat on the top was sanded to 1200 grit.
It was my first contact with arm-r-seal. It works very well for smaller pieces but wipe on is not really ideal for larger pieces like the top. I really need to practice spraying.
This project took so long with a lot of interruptions. there were many moment of frustration and during those moment I did not think about taking pictures. So I don't have a blog for this project. Instead I posted some construction pictures.
If you have any question, please ask.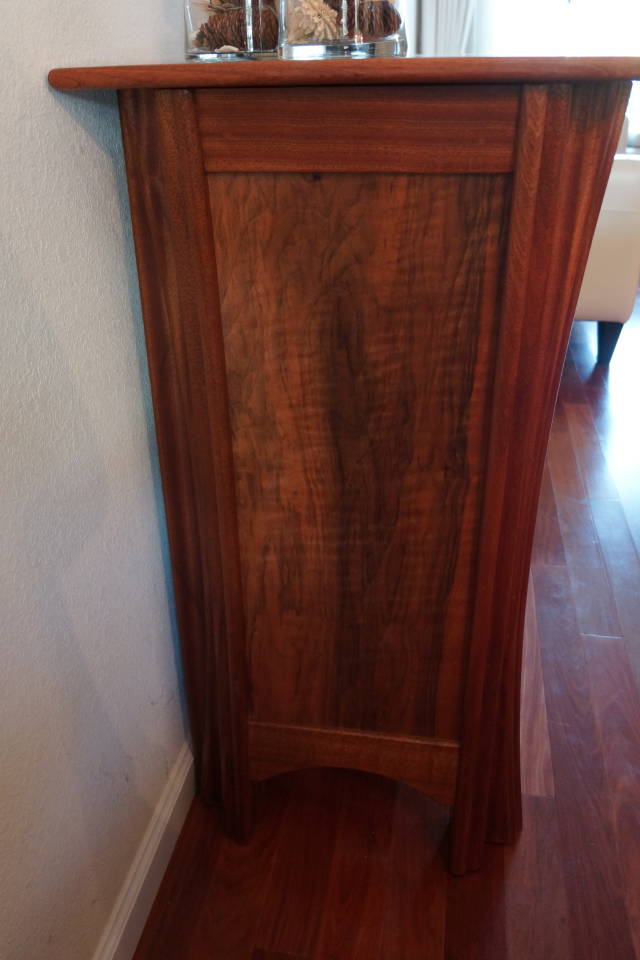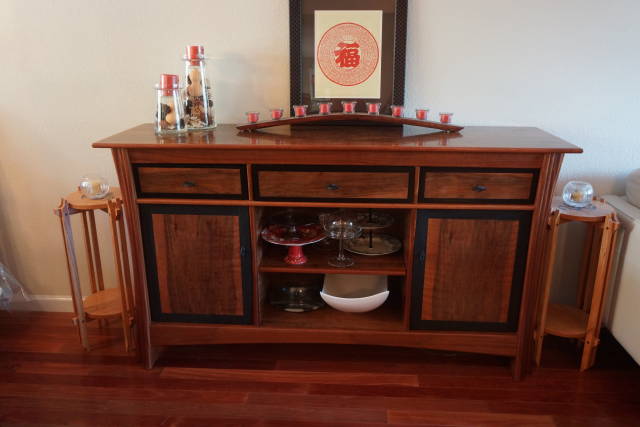 The pictures are pretty lousy. Probably due to insufficient light.
Thanks for looking.