The mystery project…revealed!
Entered in the curva-licious contest…
Let's see if I covered all the bases…
Practical…check
Artsy…check
Practical-artsy…check
Artsy-practical…check
Bends
Cut it? Check
Carve it? Check
Bend it? Check
Sand it? Check
Or…? Check (While swearing a blue streak at it during construction I swear I saw some of the wood curving in fear.)
On with the description…
After seeing Keifer's back scratcher bending posts I decided to give bending a try, hoping to incorporate it into a project for my youngest daughter. She came to me a couple of months ago with one of my guitars in hand and asked me if I could teach her to play. I've never pushed music onto any of my kids. I know how much discipline and practice it takes, and if your heart isn't in it, you'll never learn. She seems to have the passion for it, but had a little problem. She had no way to hold her beginner music books while she played.
So, armed with Keifers awesome bending information, I decided to build my budding guitar player a music stand: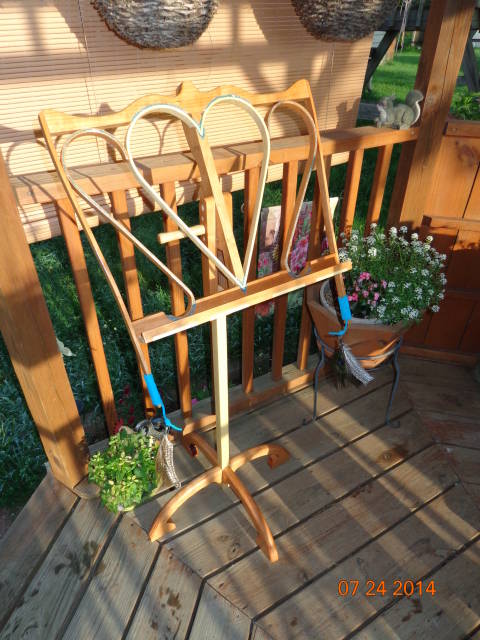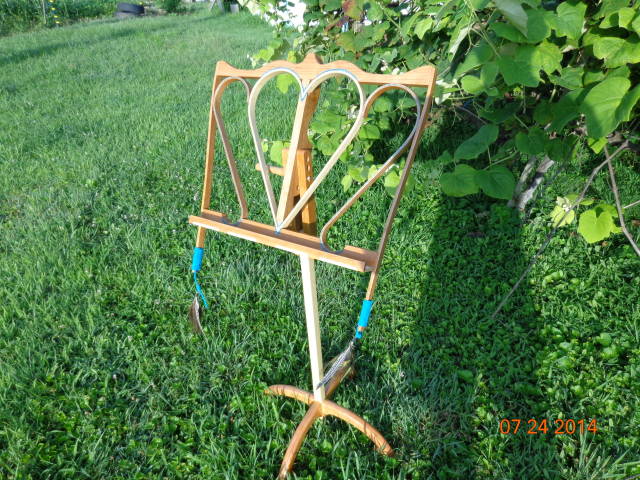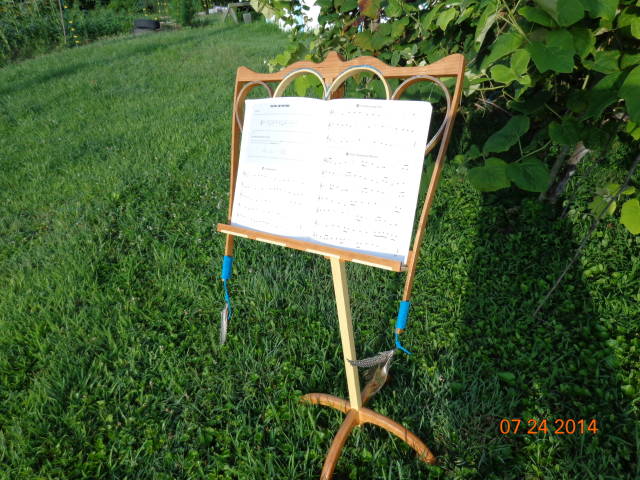 Construction is primarily cherry, the center heart and post are ash, the pivot handle is oak and the tray is aspen. The finish is shellac. The back pivots to three settings.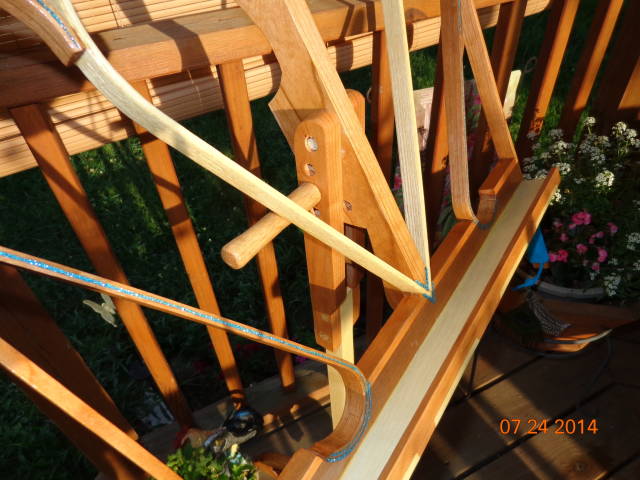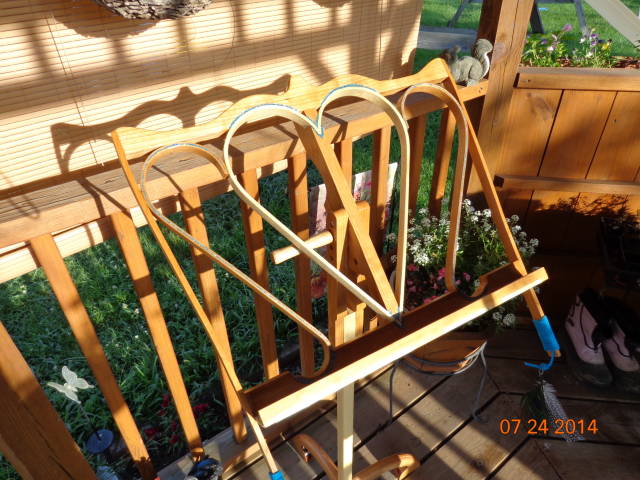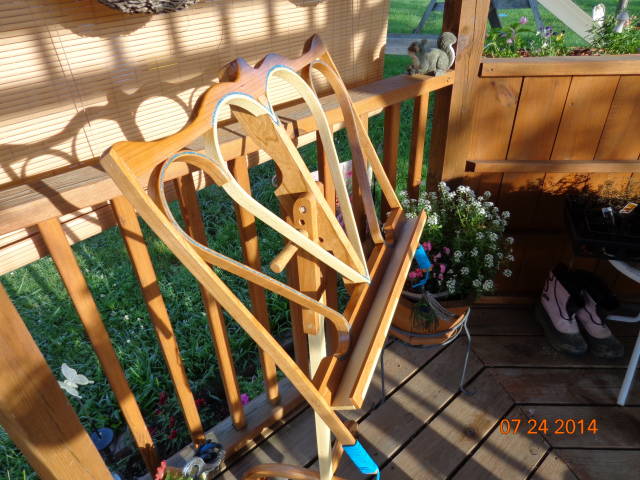 I don't have a band saw or scroll saw so everything was either cut with a jigsaw, hand carved, or sanded to shape, including the feet.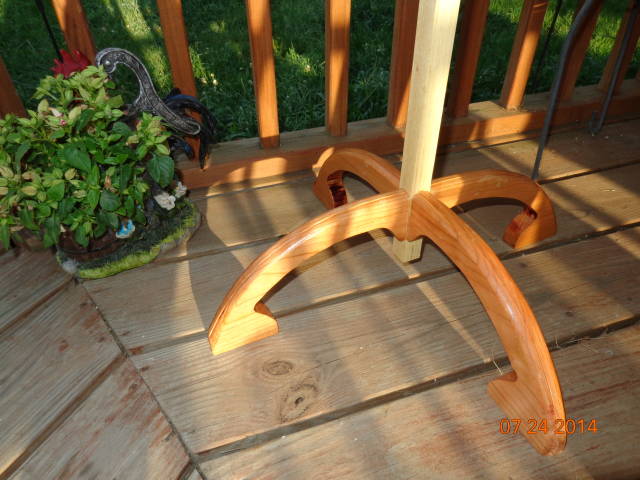 The tray is aspen with a cherry front, which I attached with hand-cut dovetails. I must admit, I'm getting better and better at cutting dovetails. Like playing the guitar, practice makes perfect.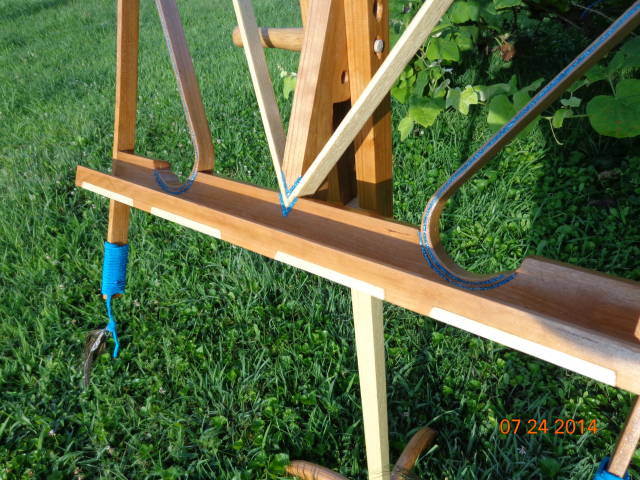 Some other embellishments include hand wrapped leather, which holds two ostrich feathers. Also, thanks to Terry and Ianwater, I learned about using "out of the box" materials for inlay. Using a cheap set of carving knives I bought at Joann Fabrics (my wife's home away from home), I carefully carved grooves in many of the joints. I then mixed ultra-fine turquoise glitter with a fast setting epoxy (JB-Weld clear) and filled the grooves as a highlight to match the leather.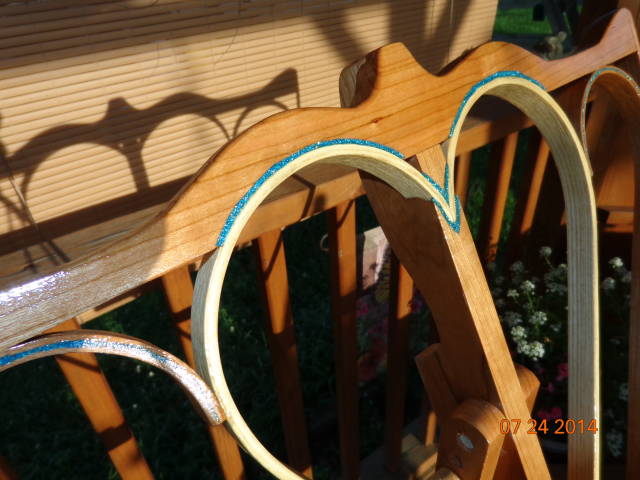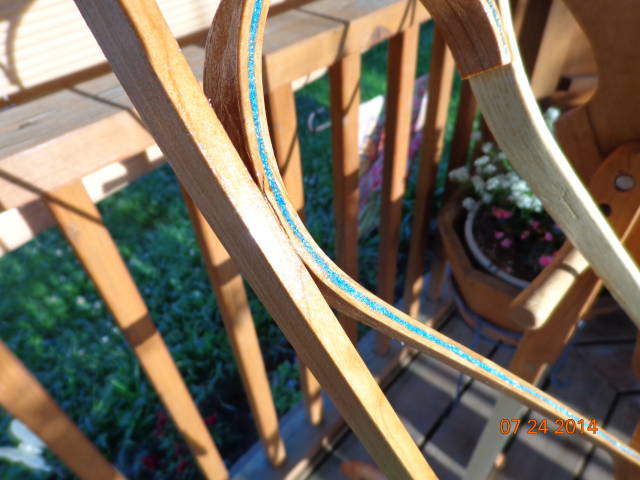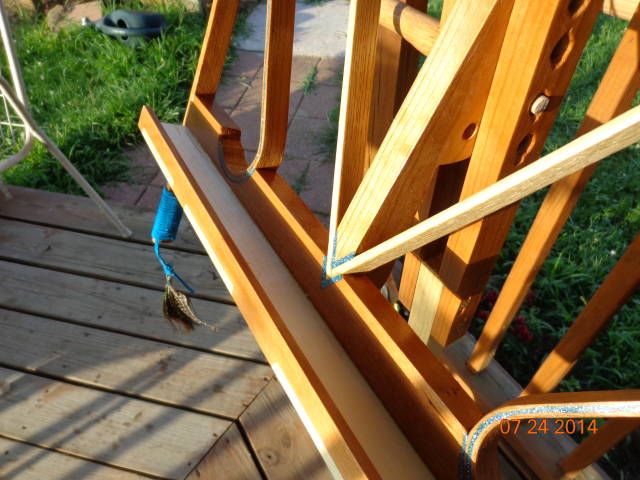 The stand matches the cherry bodied guitar she is using very well.
I'll post a picture of my little guitar player putting it to use later today.