How to enlarge your shop without increasing it's size
Like many hobby woodworkers I have always felt that my shop was too small. It certainly isn't large at 228 sq.ft. My growing dissatisfaction made me give the problem a rethink. I finally realised that my real problem had a lot to do with the lack of bench space. My first project to solve the problem was this assembly bench to be used for glue-ups, my veneer press and light table, and also to store my marquetry tools and supplies. This bench has been much used in the short time since it was finished and it made me realise that 'shop' space was not as big a problem as 'bench' space.

With my newfound knowledge I turned my attention to my workbench. I've never been happy with this small Sjoberg cabinet makers style bench because it was way to narrow at about 10", wobbly under hand planing and it had a tool well running along the back that was a debris catcher and hard to clean (many woodworkers like tool wells, I don't). I had to attach it to the wall just to prevent it from racking!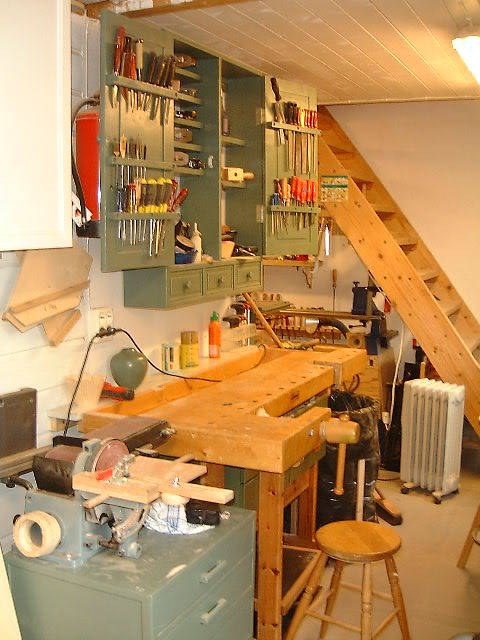 A lucky find in the local thrift store became the solution. I found a beautiful solid pine trestle style dining table with 3" thick legs and a 2" thick solid top. I converted this fine old table into a very good workbench with quick release side and tail vises and a lot of other features to hold work. I've been using it for a couple of weeks and I feel that I can undertake about any size project within reason now.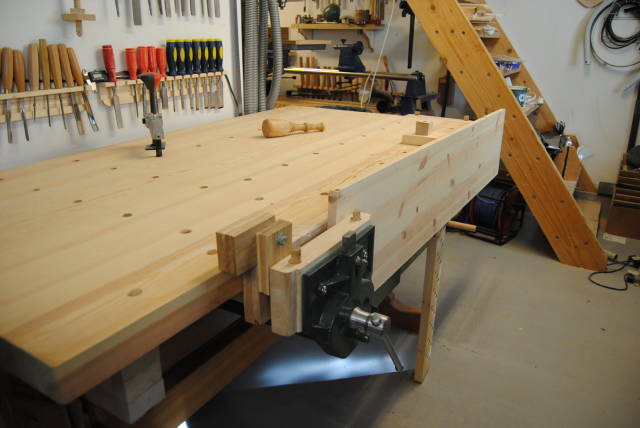 Of course a good sized workbench can also perform the function of an assembly bench, so strictly speaking you really don't need both to get the benefits. If you have only one bench It can be a good idea to make gluing up your last work of the day so it can sit on your bench overnight to dry without interfering with your work.
I hope this might be helpful for others struggling with small shops. Thanks for reading!
-- Mike, an American living in Norway