My Take on a Small Budget/Space Shop #4: Garage to Shop in 2 1/2 Minutes
This is a fun little video I've been meaning to do for a while now. It is what I do every morning (with slight variations) when I'm in Green Valley. In this case I needed the belt sander first but it could just as easily have been the bandsaw or one of the other SPT's. I always set up the SS for table saw when I first pull it out. That accounts for a couple of extra moves in this case.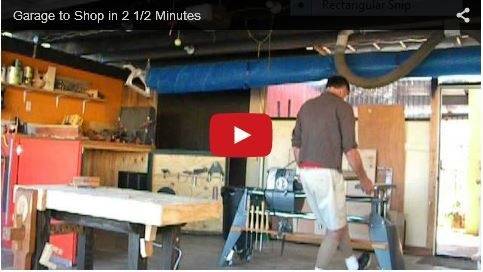 I was going to do another one when I put it all away tonight but you can just run this one in reverse and imagine me sweeping up under the SS for a minute or two. The one thing that SS is bad at is dust collection on the TS. The dust collector gets the fines but a fair bit of the heavier sawdust escapes. …. no big deal.
Thanks for Looking in
Paul
-- The early bird gets the worm but its the second mouse that gets the cheese.
Part 4: Garage to Shop in 2 1/2 Minutes
View all parts of My Take on a Small Budget/Space Shop »