Thanks to Wolf & Rabbit for doing this interview.
1. What is your "inspiration story" — where did your interest in woodworking all begin?
Well, it really goes back to when I was about eight or nine. My Grandfather had retired from his work at Imperial Oil, a job he took after retiring from the Canadian Armed forces as a Major who saw service overseas during the second war. He bought a really run down little shack in a sort of "area" near a sleepy little resort town on Boundary Bay. Ocean Park is now quite upscale but back then it was a little ….wild…He rebuilt the house with additions and a seperate double garage which never housed a car. It was his workshop. I used to tidy up the place when we went over for Sunday Roasts and he let me make a few saw cuts, plane a board now and then. He was very good at explaining it all.
Later in life, and now I'm about 12 (don't worry I get moving quicker soon) and my Dad has built me a bedroom in our, otherwise unfinished, basement. The rest of the basement is dedicated to his sailboat. My dad likes sailing, he built a sailboat. It wasn't a sailboat like Paul builds, but it's the one I learned to sail on. I lived in the back of the workshop. I helped a bit….you know, "hand me that"….that sort of help.
Flash forward a lot and you find me in Wales. I'm a semi-retired computer network security analyst and I have a new wife and a space that I've only ever dreamed of…after redoing the living room, the kitchen, the back garden, the bathroom and the den I redid the garage. It is now a woodshed and a workshop.
I'm the one building now. I'm quite pleased with that.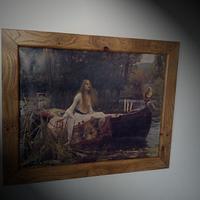 2. Who is your woodworking mentor and why?
Bill Muir. He was not a woodworker he was a Land surveyor. He gave me my first real job after High School. I learned so much from him about the consequences of choices, about looking forward not just ahead and that mistakes are not failures if you pay attention. Brilliant man, long dead now but never to be forgotten.
3. Power or hand tools? … and why
I own a No. 4 Record smoother, a coping saw, some screwdrivers and wrenches. I think it's fair to say "Power tools" Two plunge routers, a jointer/planer, a tablesaw, a spindle sander…they get the job done. I still make a monthly attempt at dovetails by hand. It's a sort of…you need to do this … type thing, and you just can't flatten a tabletop with an 8" planer.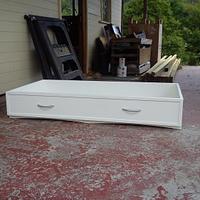 4. What is your dream project and when do you think you will tackle the challenge?
That's a tough one. I'd like to do some very sexy art tables. I like Craftsman style furniture. I like Greene and Greene style and mission style and Shaker style..and ….well it goes on. I have a table design I've made some sketches of…I have some very nice English elm in storage…and some really old mahogany…
5. What is the greatest gift that this craft gives you?
I studied as a draughtsman…paper and pencils. I've always been a bit artsy, I suppose. So that technical draughting, sketching out an idea, and then changing lumps of wood into "things" really makes me happy. Bandsaw boxes rock. quick easy gratification and they make great gifts which people always seem to love. I get so much out of turning boards into "things" it's quite hard to expain it, really.
6. What are your "words of wisdom" that you want to pass on to others, especially to beginners?
Two little sayings that I take to heart:
Someone on this site has as his sig, "Never confuse a mistake for a failure" which is exactly right, if you're paying attention.
And an old Amish saying, "Never make anything that isn't necessary or useful. But if it is necessary or useful, never hesitate to make it beautiful"
7. And with our community being so new, what do you look forward to, as a member?
More details. This site is already more than just a "Looky what I made" sort of place…People explain things, share problems and the way they were overcome. I hope, and expect, that this site will be less popular but a lot more useful. This is the place you'll come to learn how.
Thanks again for the opportunity to tell me story.
Alec (Wolf)
And now— your turn. What would you like to ask Wolf & Rabbit? (And comments/feedback, of course)