WoodworkingWeb Theme: Wooden BOXES
Anyone who knows me, knows that I am an "outside the box" kind of person! I like to take an idea and stretch it, play with it, distort it, expand on it, and, well, think outside of it.
But that doesn't mean that I don't like boxes. As a matter of fact, when I first began my journey into the woodworking world, I just wanted to make a box, any box, just a box. I love boxes. I love the practicality of them, the stackability of them, and the sturdiness of them.
I soon discovered, as I entered the world of the woodworker, that boxes aren't just four sides, a bottom, and perhaps a lid — no, no, no… they are pieces of art!! Woodworkers young and old have created the most extraordinary "outside the box" boxes, with unique shapes and designs, masterful joinery, beautiful artwork and other unique additions to that "just a box" box.
Our WoodworkingWeb members have not let me down. Check out these wooden BOXES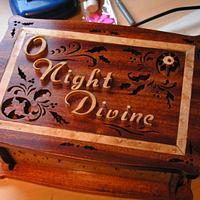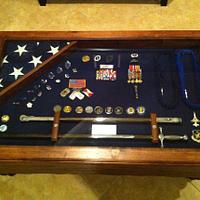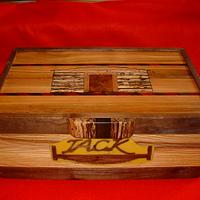 You can find all of the BOXES tagged as such here: http://woodworkingweb.com/creations/tagged/20-box

BLOGS
Want to tackle making a box? Well, why not start with something as simple as a sewing box, like MontyJ did. Ok, first of all it is not a simple box but it IS extraordinary! A job well done, MontyJ, especially for a first project. You can follow the build here, in his blog series: LINK
And then there is the BIG box — a planer table/cabinet. Yes, a cabinet is a big box with drawers! (See? I'm thinking a tad outside the box on this one.) Check out HorizontalMike's progress here: LINK
FORUMS
(TIP: don't forget to tag your blogs & forum discussions, as well as your creations, so we can get them added to the list. Thanks)

Now it's your turn: show us your Wooden BOX – whether it is a first project, a practical 4 sides and a bottom, or a piece of art that will never hold anything other than people's attention. Tag your box as such (BOX) and then share them here in the comments as well.
Also,
I'd love to hear your ideas for that "dream box", that something special that you want to build one day.
What are your questions re: building a box or building that special box?
And don't forget those "kudos" for our box-builders!
-- Toxins Out, Nature In - body/mind/spirit