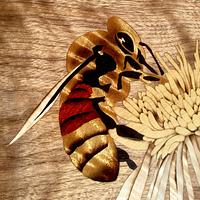 shipwright
posted about 7 years ago
Hide Glue Primer #3: Hammer Veneering
I built a new sliding hatch for Friendship last year to replace the $136 piece of medium bronze acrylic that I sat on the while setting up some rigging…. Crack !!!…. This time I cold molded a curved panel from 3 layers of 1/8" cedar on opposing diagonals and decided to make it appear to be a solid mahogany hatch. This would be difficult to press with either my screw press or clamps and would require substantial jigging to vacuum bag so the obvious answer seemed to be to hammer it. Of course I also was dying to try out my new real (not home made) veneer hammer from Tools for Working Wood and the new glue brushes from the same order. Don't worry about the hide glue on a boat thing. This was coated in epoxy when finished and will never be soaked for a long period in hot water.
I ask you can veneering be any easier than this?
BTW, I love the new hammer and the brushes are a winner too.
Thanks for looking in.
Paul
The early bird gets the worm but its the second mouse that gets the cheese.