Murphy Bed Wall Unit #4: "Side Job Delay" Murphy Bed Soon!
Just an update on my side job!
My partner and I finally got the job rolling on Sat. the 19th after narrowing down the details with the designers from NY.
We split the wall units into 2 halves for easier delivery and set up.
I'm just going to show some pics and briefly explain them.
We built all the cubby hole boxes that went into the upper wall unit first, (total of 44) Then pre-drilled all of them for the lighting. Next we built the carcass and glued the boxes to back of the faces. Here is the carcass with the boxes glued in place.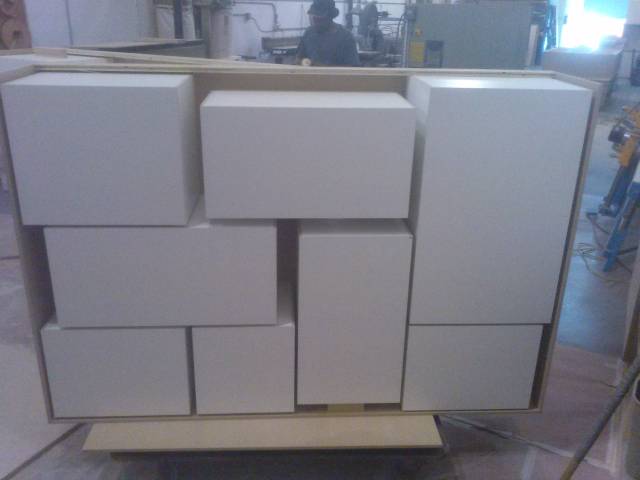 Next we wired in all the lights and attached the backs.
Next thing to do was to rout out the front cubby holes out of the face. The designer wanted a 1/2" lip around the inside of each cubby. The only bearing I could find that was the right size had a 1/2" ID so I had to insert another 1/2 OD bearing to make it work.
Here is the pic of the face with the holes routed out.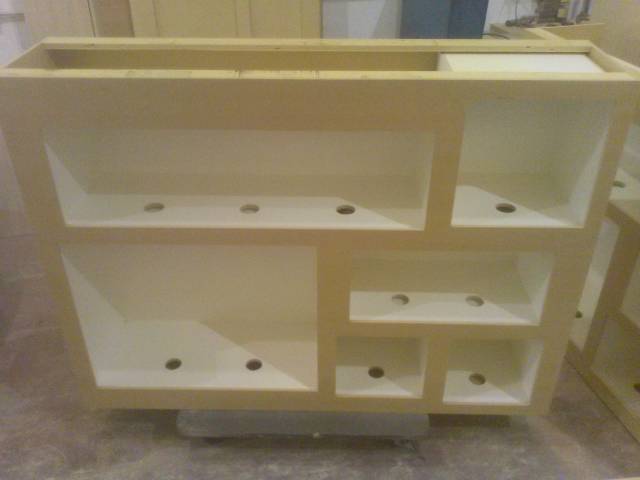 Here is a pic of the router bit with the 1 1/2" oversized bearing on it.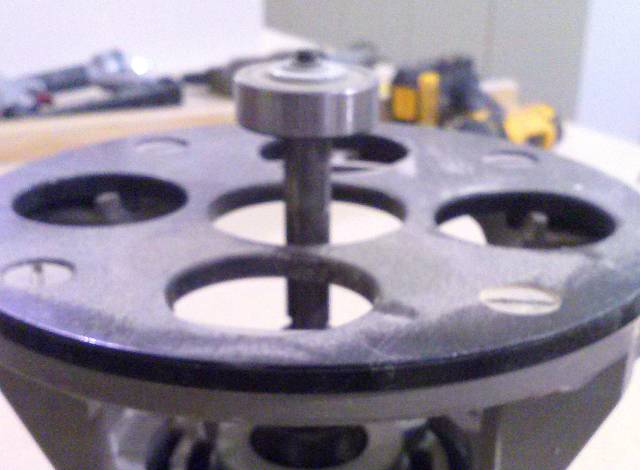 Thats about the just of the build the rest were just boxes. Here is everything to date. Ready for the truck Tomorrow.
These are the bases for the upper units. (6ea.)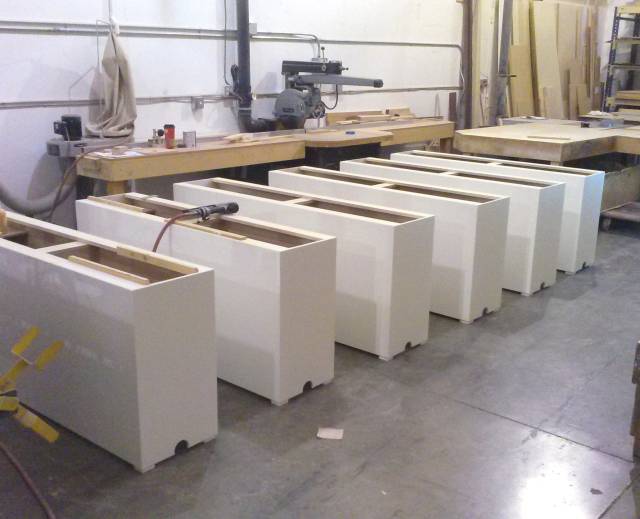 These are the pedestal displays that will stack in front of the units. (4 smaller ones)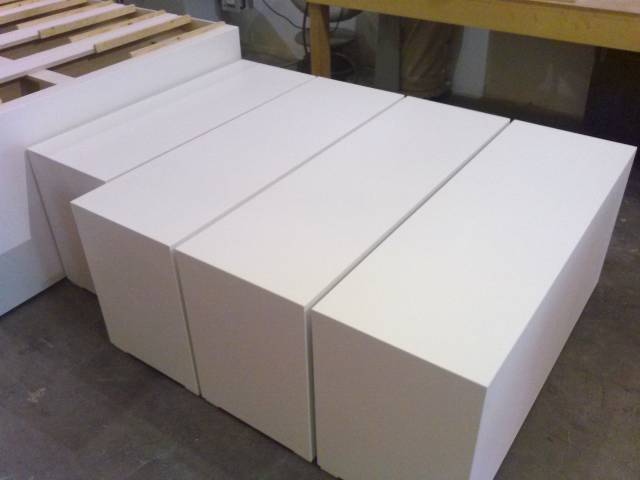 And 4 Bigger ones.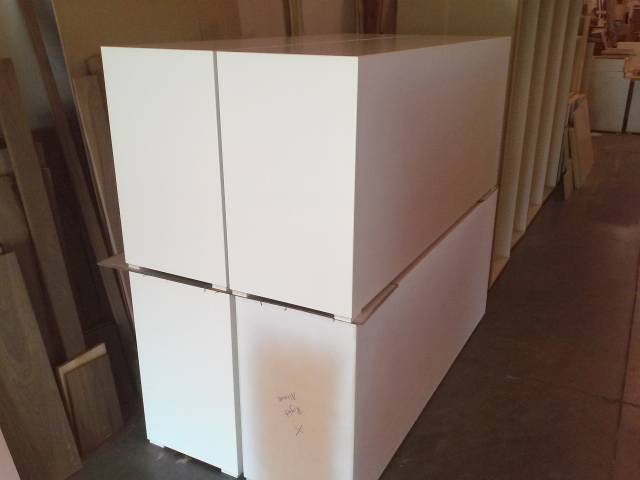 These are the display units.(The upper sections)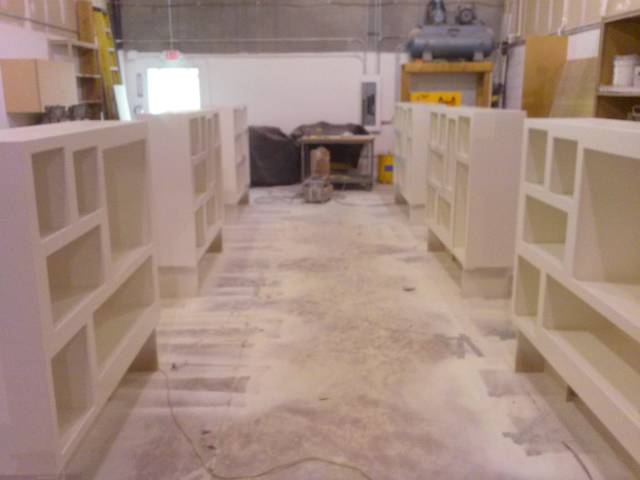 Typical Unit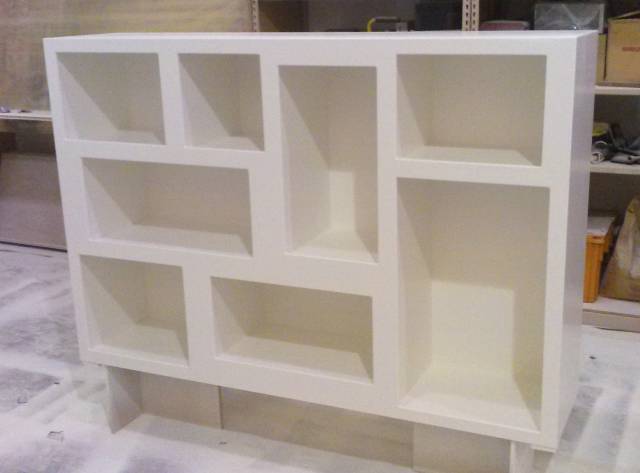 With the lights.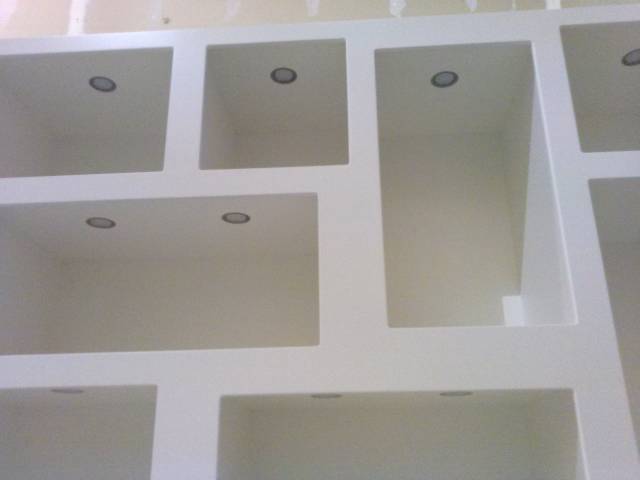 That's about it. Just got some cleaning and a few small things to do by the end of the day, then I can call it done.
A lot of work for 2 guys in short time. I'm happy with the results, I hope they will be as well.
Back on track with the murphy bed ASAP.
Thanks.
Part 3: Small Delay
Part 4: "Side Job Delay" Murphy Bed Soon!
View all parts of Murphy Bed Wall Unit »