WoodworkingWeb Interview: lightweightladylefty
Thank-you to lightweightladylefty for taking the time to do this interview.
1. What is your "inspiration story" — where did your interest in woodworking all begin?
My first experience with "working the wood" was as a very young teenager. We had a very old grand piano with crackled black lacquer finish. I stripped and sanded the piano with my father's help, but we never refinished it. About 20 years later I had a house fire and my piano took quite a beating. Rather than having it restored, I decided to have the grand piano (which at that time was being stored in my parents' garage) rebuilt. I'm still enjoying that piano even though the piano rebuilder finished it.
That experience started me on my journey with the love of wood. As a young adult with limited resources and a frugal, do-it-yourself mindset, I picked up old pieces of furniture which were often free (discarded by others) or very inexpensive at rummage/garage sales. These pieces invariably required some degree of work, from refinishing to rebuilding parts. Even though I can say with all honesty that I deeply despise finishing, I grew to love finding the treasure under the neglect.
The responsibilities of home ownership and a major fire helped me to realize that the work of many so-called professionals did not meet my expectations and I determined that I could do just as well. So I began acquiring tools. My first table saw was an old Yates American Model 1701 (8" table saw, 4" jointer, and 10" disc sander combination) that I purchased from a neighbor for $10. About 20 years ago my husband purchased a Ryobi 3100 for me and I gave my Yates to a friend. Then about 10 years ago I purchased a used Grizzly G1023ZX. I continue to amass tools but am trying to be more selective of quality and not just quantity.
As I completed each project, I was inspired to attempt something else and tried to push myself another step ahead. With encouragement from my husband and the craftsmen on this site, I have gained the courage to try new things. WoodworkingWeb has given me a resource on which to rely when I can't find answers to my woodworking questions.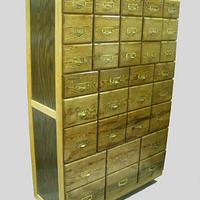 2. Who is your woodworking mentor and why?
My woodworking mentors are all the fine craftsman on WoodworkingWeb! I don't have a particular style that I prefer but tend toward more traditional designs. I am awed by some of today's artisans including Les Hastings, Paul (Shipwright), Bentlyj, Roger Bean, and others. I am especially grateful to those who so willingly share their expertise so we can learn from them. Truly great craftsman appear to have no fear of their students stealing their ideas but seem to be excited when they can teach someone the skills they have acquired.
3. Power or hand tools? … and why
I am basically a power tool user, and for two reasons:
a. I'm a wimp and hand tools take a great deal more strength and endurance than power tools.
b. I'm untrained and power tools can get some results (even if not the best) without having a clue what I'm doing.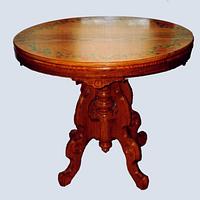 4. What is your dream project and when do you think you will tackle the challenge?
I have a list of utilitarian projects that will keep me busy for what is left of my lifetime. Some day I would like to make my burial urn which I have designed and re-designed many times. At this time it doesn't seem quite as urgent as some of the other projects. My parents are still alive at almost 97 and 96, but I hope I don't put it off too long.
5. What is the greatest gift that this craft gives you?
Woodworking gives me a sense of accomplishment. After spending weeks in the shop, I have a finished project that will probably endure for the rest of my lifetime. If I concoct an exciting dessert, it is eaten quickly and soon forgotten. If I design and sew a garment, it will soon be worn out or no longer fashionable. But when I make a piece of furniture, there is always the thought that it might even be appreciated by following generations (even if my craftsmanship is not that skilled).
6. What are your "words of wisdom" that you want to pass on to others, especially to beginners?
"Seek first the kingdom of God and His righteousness, and all these things shall be added unto you." Matthew 6:33 My "words of wisdom" are quite unimportant, but God's wisdom is perfect.
7. And with our community being so new, what do you look forward to, as a member?
Virtually all of my minimal woodworking knowledge has been gleaned from reading woodworking magazines throughout the years before internet, and now I can continue to learn from so many gifted woodworkers here on WoodworkingWeb. What I really appreciate about this site is the encouragement received from so many fine woodworkers. I have stretched myself far more than I would have, had I not encountered these craftsmen.
As a member of WoodworkingWeb, I hope in some small way I might be able to inspire others to enjoy woodworking. "Whatever you do, work at it with all your heart, as though you were working for the Lord and not for men." Colossians 3:23
-- Toxins Out, Nature In - body/mind/spirit