WoodworkingWeb Interview: Thorreain
This interview, with Thorreain, is from February, 2015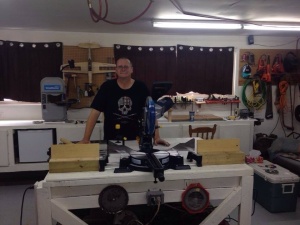 1. What is your "inspiration story" — where did your interest in woodworking all begin?
My interest in woodworking began at 6 years of age, when I would find scraps of wood in my fathers garage and make airplanes from them. But my true love of woodworking began at 11. My best friends father owned the local ship building yard on the east coast of Nova Scotia, Brenton Greys Boat Building. We would spend our summers building a camp in the woods about a mile back from the road. We worked for the boatyard by selecting trees that had knees in them for the building process. We also got to help build punts in exchange for a punt of our own each. As well we got first pick on any salvage or demolition in the area. Sometimes it would take over a week just to haul a piece of painted nailed inch thick piece of marine grade plywood back thru the path to our camp site. Together we built a wonderful camp on the lake. After we moved away when I was a teen, I found out that my friend eventually tore it down to build a real house for himself and his bride where they live to this day. But we both still reminisce over every stick and every nail that we scrounged for and used to create our own paradise.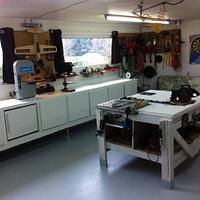 2. Who is your woodworking mentor and why?
My mentor would have to be my first boss after leaving the military. I was a paratrooper in the airborne regiment of Canada and a pathfinder. George was an old paratrooper as well from WWII. He taught me that everything that could be done with any other tool could be done with a table saw. Together we built a ton of props for the convention center we worked for. Most of which are still in use. Like a 12 foot tall rendition of a gazebo that is still used indoors for weddings.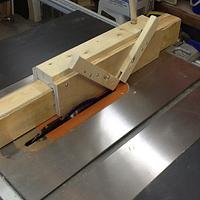 3. Power or hand tools? … and why
For tools, my professional life as a woodworker was spent under some type of time frame or goal so power tools were a must. Once owning my own business, Chris Lockert Woodworking Ltd., I progressively started to buy more and more hand tools, trying to recapture some of the skills I had as a young lad building boats and a camp. Now I pick the tool based on how I feel when working the wood.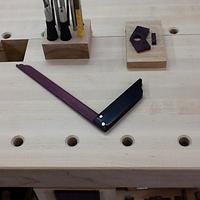 4. What is your dream project and when do you think you will tackle the challenge?
My dream Job will be to replace the kitchen table and chair set in my house. Every other piece of furniture I own I have built in my house and my children's houses. The dining room set was built by my great grandfather from red oak that he felled and milled and then crafted by hand tools back in the day. I hope to build a newer version, but an heirloom just the same. My wifey has the design wood and colours picked and has given me the go ahead to start. Right now all that I am doing is collecting the wood, next winter will be the beginning of the project.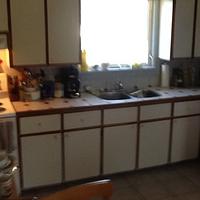 5. What is the greatest gift that this craft gives you?
This craft has been through the years my bedrock for my working life. From small projects to complete houses I have done it all and thought it was a love of working with my hands and creating things from wood that allowed me to see clearly. Today it is like physio therapy and psycho therapy both allowing me to have a reason to get up every day and go to the shop to work with wood and my hands.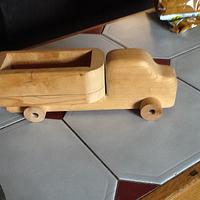 6. What are your "words of wisdom" that you want to pass on to others, especially to beginners?
Some words, not necessarily wisdom, but here they are, treat everyone you ever meet as if they were your grandmother asking for help. Never pass an opportunity to learn from a crafts person, as they have discovered through the years more than you may ever stumble upon your self.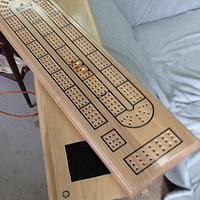 ~CHRIS, Charlottetown PEI Canada. Anytime you can repurpose, reuse, or recycle, everyone wins!
-- Toxins Out, Nature In - body/mind/spirit